GALLERY PARK HOTEL & SPA - 5 STAR SUPERIOR
On September of 2012, according to standards of international Hotelstars Union "Gallery Park Hotel & SPA" was announced as the only 5 "star Superior" hotel in Latvia!
Hotelstars Union provides a harmonized hotel classification with common criteria and procedures in the participating countries. The Hotelstars Union enhances the reputation and quality of the hotel industry in the participating countries by creating transparency and security for the guests and thereby encouraging hotel marketing.
The members of the Hotelstars Union take a challenging step on the road towards a European hotel classification, which started with HOTREC's seminar on hotel classification in Bergen 2004 and continued with the adoption of the 15, now "21 HOTREC principles" for the setting-up and/or review of national/regional hotel classification systems in Europe.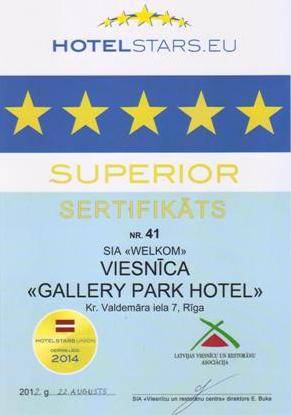 / 24.09.2012 /